Managed Security
Be prepared for tomorrow's threats.
Why Do I Need Managed Security?
Today's security is not prepared for tomorrow's cyber threats. 
The attack surface is expanding with more complex systems, cloud and the influx of remote workers. Couple that with a lack of resources due to time, budget constraints, talent shortage, regulatory standards and  massive amounts of data, it's no wonder that the bad actors have increased the level of attacks.
Will my old antivirus continue to be supported?
The game has changed and leading AntiVirus builders have moved to Next Generation AV (NGAV)
Today's threats make quick work of traditional AntiVirus – leaving your organization open to bad actors.  NGAV utilizes machine learning to identify emerging threats and generates alerts in real time (nano-seconds), leading to thousands of "false positives" that must be weeded our or run the risk of overwhelming your IT team.  Many IT teams disable these notifications due to the overwhelming number of them.
What is the solution?
You need a Managed Security Operations Center on your side.
Custom's managed security operations center augments your overall IT and data security defense posture by harnessing the collective power of technology, processes, and people to aggregate, analyze, support, and manage the multiple security measures in place to protect your organization.
24×7 Detection and Response
Protects your organization across 3 Main Attack Pillars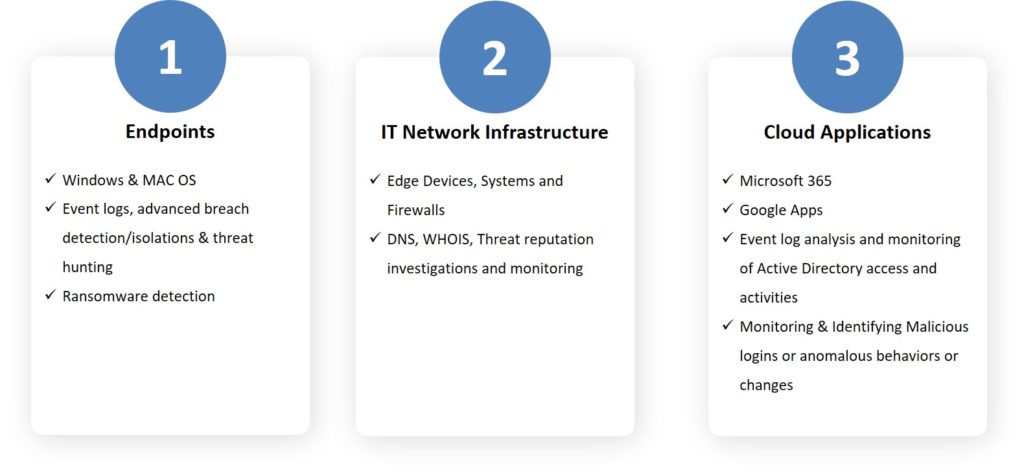 What does Custom's Managed Security solution include?
Monitoring your O365 accounts for compromises, unauthorized forwarding and data leakage
Monitoring the Dark Web 24×7 for any exposed credentials linked to your domain or IP details
Looking at your overall risks and defensive measures to adjust or change your future tactics or strategies
Detecting suspicious tools that should not be present on your network, such as hacking utilities, password crackers, etc.
Monitoring DNS filter log activity for new threats, known vulnerabilities, or malicious network and IP connections
What's in it for you?
Proactive and preventive security management
24×7 coverage/support
Increased threat awareness and risk mitigation
Critical documentation and record keeping
Regulatory compliance
Cyber insurance compliance
Peace of mind